Elite Women's Field Highlights
14 November 2018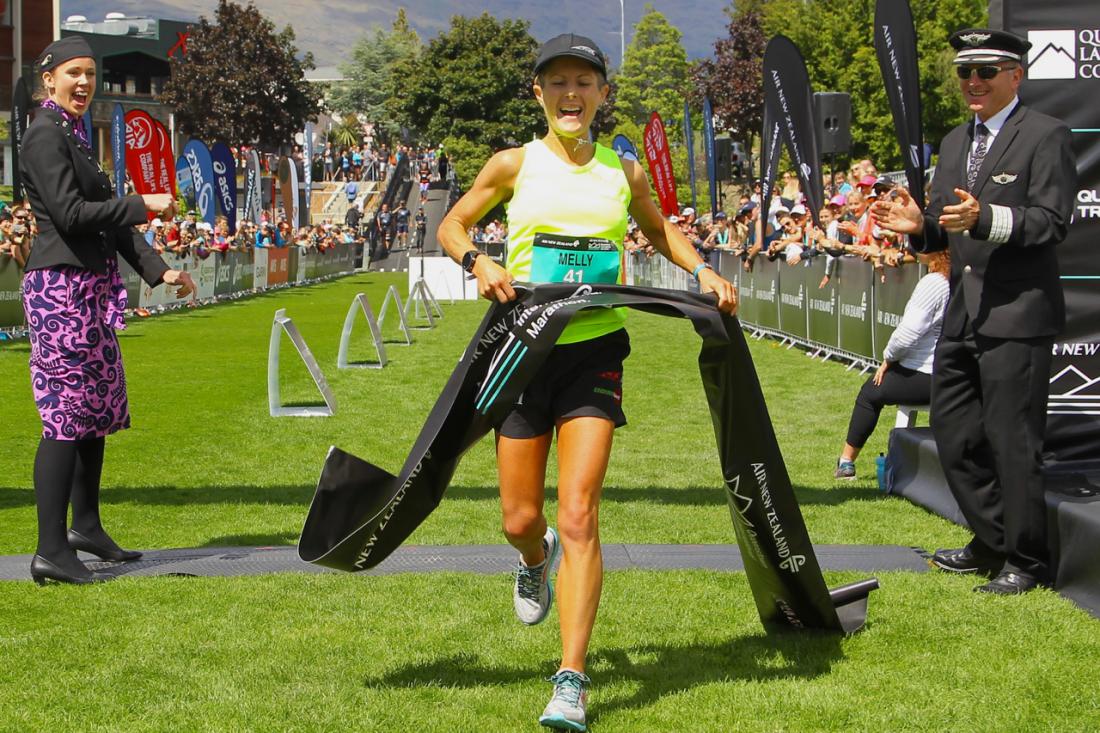 Mel Aitken (Wellington) headlines the elite runners at the fifth anniversary running of the Air New Zealand Queenstown International marathon, with the now capital city based athlete attending every edition of what is now New Zealand's largest marathon.
In that time the National Manager for Safer People with New Zealand Police has been on the podium every year, with three second-place efforts capped by her victory in 2016.
"This will be year five for me, I have not missed a race. Queenstown is a special place for me having spent much of my childhood holidays hanging out in Central Otago. The atmosphere of this event is awesome, from the start line at Millbrook to the cheers and support crossing the finish line. It's one I just have to come back for!"
Aitken is not sure what her form is like coming in to this year though, having taken up a new role with the Police in Wellington and doing her best to mix a return to city life (previously being on the West Coast) with family time and training.
"I haven't raced as much this year due to work commitments so had my last full distance race back in July on the Gold Coast. Training has been going well so Saturday will be a bit of a surprise as to how I fare. I'm excited about lining up and obviously aiming to run as best I can, so what will be will be."
She will not lack for support with husband Steve running in the New Zealand Sotheby's International Realty Half and number one supporter Mum coming down to make sure they both have great days.
2017 champion Hannah Oldroyd is lining up again, following on from her third place at the ASB Auckland marathon, and she will bring her usual laid-back approach to the event as the ex-pat Brit mixes her love for travel and running.
"My boyfriend came over to visit just after Auckland, so we've spent two weeks doing copious amounts of beer drinking, steak eating, kayaking and hiking, and not much running has happened, so it'll be a case of winging it as usual."
Oldroyd also suggests that her natural clumsiness means she must be all the more aware of her surroundings on the mainly off road hard packed trails of Queenstown.
"Anything which isn't flat and/or tarmac doesn't suit my clumsiness! The approach will be looking where I'm putting my feet, avoiding any comedy falls, totally different to a road marathon of just settling into a rhythm.

"The main reason for visiting is the event and the location, which was incredible last year and too good not to return to. There'll be a group of us there from Friday to Sunday, so hopefully we will have a little time to sample the local beer and stunning lakes scenery.
Both Aitken and Oldryod will have their hands full though with the likely challenge from Lydia O'Donnell, the Aucklander is relatively new to marathon running, but already has a personal best of 2:39 and finished 20th at the recent New York Marathon.
"I am very excited to be running my first New Zealand Marathon in the beautiful Queenstown region. It's a race I've been wanting to be part of for years, and I thought this year, why not! After recently returning from running the New York Marathon I am looking forward to running amongst nature and the scenery of our incredible country."
With the withdrawal due to injury of defending men's champion and race record holder Sam Wreford, the men's race is wide open and likely to welcome a new champion, with none of last year's podium returning, expect to see a new name on the honours role come mid-Saturday morning.
NEW ZEALAND SOTHEBY'S INTERNATIONAL REALTY HALF PREVIEW
The New Zealand Sotheby's International Realty Half Marathon will be fiercely fought in both men's and women's categories, with the men's race seing a return of the 2017 podium, led by winner Daniel Balchin, with the 2016 and 2017 national 10km road champion making the trip from his current home in Cromwell and says he could be in shape to challenge his race record of 1:07:28 set last year.
"My training has been going well leading into this race. I feel I'm in similar shape to this time last year. Hopefully I can get close to last years' time, we will have to wait and see.

"I'm currently living down the road in Cromwell and often make my way out to Arrowtown/Queenstown to train on the vast network of trails in the area, some of which make up the course. These trails combined with the picturesque scenery in the area make it one of my favourite spots to run."
Balchin will have plenty of contenders, with James Tunbridge (second in 2017) and Brett Tingay (third in 2017) both returning to again push for a victory.
Former New Zealand triathlon rep Fiona Crombie returns after her third placing in the New Zealand Sotheby's International Realty Half last year and arrives in Queenstown in a relaxed frame of mind.
"I have a more relaxed in my approach to racing, just see what the day brings. These days I don't get to train as often or as much as I would like to and so just try and do the best with the fitness that i have on the day. I generally know what level of fitness I have and what pace that is for a race and if i can achieve that pace then I am happy - whether it gets me on the podium or not.

"Preparation has gone better than last year, when I got a calf strain six weeks before the event and hadn't run longer than 10km in the lead up. This year my training again hasn't been as consistent as I would have wanted with a hamstring niggle in the last couple of weeks, however for me a perfect build up is a very occasional!

"Queenstown is incredibly scenic, and it changes the entire way through the race - river views, running in the trees, lake views, running trails and road and it is not flat! I think it generates a relaxed but excited atmosphere."
The Cigna 10km race can often throw up new winners, amongst the leading contenders will be Sarah Douglas (third last year) in the women's race.
All events converge on the Queenstown Recreation Grounds, with the finish line hosting some of the region's leading food and beverage suppliers, with music and entertainment throughout the day.