INTERNATIONAL ATHLETES TAKE OUT AIR NZ QUEENSTOWN MARATHON TITLES
15 November 2019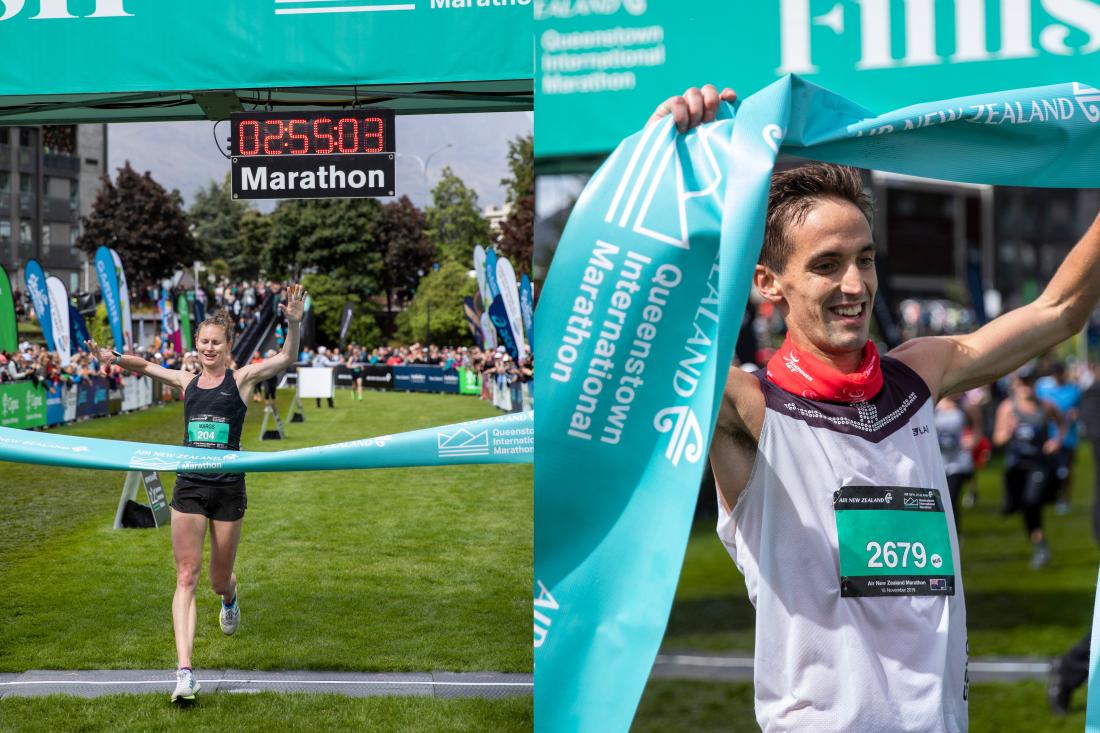 Britain and Australia can lay claim to the respective men's and women's titles at the 2019 Air New Zealand Queenstown International Marathon, with Fabe Downs and Margie Campbell running to victory in the sixth edition of the hugely popular event.
The day dawned with the forecast rain starting to fall as the 12,500 runners prepared for their respective events, but soon cleared to the point where running conditions were near perfect, with little or no wind and mild temperatures.
The men's marathon race saw pre-race favourite and defending champion Daniel Jones withdraw just past the halfway mark with a lower leg injury, opening the door open for Fabe Downs, with the British runner celebrating a wonderful victory just a week after arriving into New Zealand.
"I have only been in New Zealand for a week, living in Auckland but I am born in the UK and have Swiss citizenship, so I am a bit of everything. I loved that today, what an amazing course, the bit by the lake and it is so nice to run on soft ground and not hard tarmac all the way," said Downs.
"I was in second until about 25 or 26k and I saw the lead guy and was feeling quite strong still. I was quite happy with how the race turned out and how I was pacing it."
Second home was Hiro Tanimoto (Japan) with Aucklander Jonathan Jackson finishing third.
Dunedin based Margie Campbell was a comfortable winner of the women's race, the ex-pat Queenslander coming home in 2:54:51.
"That race lived up to everything I have been told, it was just spectacular, I am just so pleased those heavy showers stayed away. Conditions were perfect, just ideal."

Campbell led from the gun and was able to take in her surroundings in her debut Queenstown appearance.
"I was on my own for a lot of the race, I had some lovely guys to run with and the lead biker was chatting away for the first half, so that was nice, but I was just looking around enjoying the view and just rolling, I really wanted the win today, I am stoked.
"It is a little bit slower than a lot of marathon courses, but I wouldn't change it for anything."
Campbell was 15 minutes clear of Sonya Cameron and Carly Doyle, such was the dominance of her performance as she looked full of running over the line at the Queenstown Recreation Centre Grounds.
In the New Zealand Sotheby's International Realty Half Marathon, it was Daniel Balchin dominating an event he has now won three time in succession. The Cromwell athlete knows the course well and loved the perfect running temperatures.
"It is sort of my home course now; I live in Cromwell so it would be rude not to keep coming back. The weather conditions were ideal for running, raining a little at the start but it stopped during the race and stayed nice and cool."
Balchin finished almost a minute outside his race record but was also taken by the scenery on offer throughout the course.
"I was on record pace until about 6k to go but the wheels fell off a little. This is a beautiful place, I come out here and do my Sunday long runs here as I enjoy the trails and the beautiful scenery by the lakes, it is a great place to run."
Jess Kikstra (Christchurch) took her good form from the cross-country circuit to the half course today, running to victory in 1:26:18, despite just missing the race start.
"I actually missed the start so started by myself and was chasing everyone. I don't have a watch or anything, so I was just looking to stay calm. This is my first half on a flat course, I am normally a triathlete or cross-country runner. The weather was great, and conditions underfoot were fine, despite the early showers.
Air New Zealand Queenstown International Marathon
Air New Zealand Marathon
Men: 1 Fabe Downs, GBR, 2:28:57; 2 Hiro Tanimoto, JPN, 2:31:10; Jonathan Jackson, Auckland, 2:38:04
Women: 1 Margie Campbell, Australia, 2:54:51; Sonya Cameron, Dunedin, 3:10:19; Carly Doyle, GBR, 3:11:16
New Zealand Sotheby's International Realty Half Marathon
Men: 1 Daniel Balchin, Cromwell, 1:08:17; 2 Chris Dunell, Christchurch, 1:13:53; 3 Brett Tingay, Christchurch, 1:14:19
Women: 1 Jess Kikstra, Christchurch, 1:26:18; 2 Laura Holyoake, Auckland, 1:27:59; 3 Anneke Grogan, Bay of Plenty, 1:28:16
Cigna 10km
Men: 1 Matthew Hobbs, Christchurch, 33:27; 2 Oliver O'Sullivan, Dunedin, 33:48; 3 Mick Heron, Australia, 34:13
Women: 1 Rebekah Greene, Dunedin, 35:44; 2 Hanneke Ijsselstijn, Queenstown, 38:39; 3 Katie Green, Queenstown, 41:27
Queenstown Airport Kids Run
Boys: 1 Lewis Bushby, 8:47; 2 Brent Cameron, 8:59; 3 Jake Smith, 9:14
Girls: 1 Abby Fookes, 8:47; 2 Analiese Murphy, 8:48; 3 Pippa McAtamney, 9:11