Queenstown Turns on a Stunner!
16 November 2018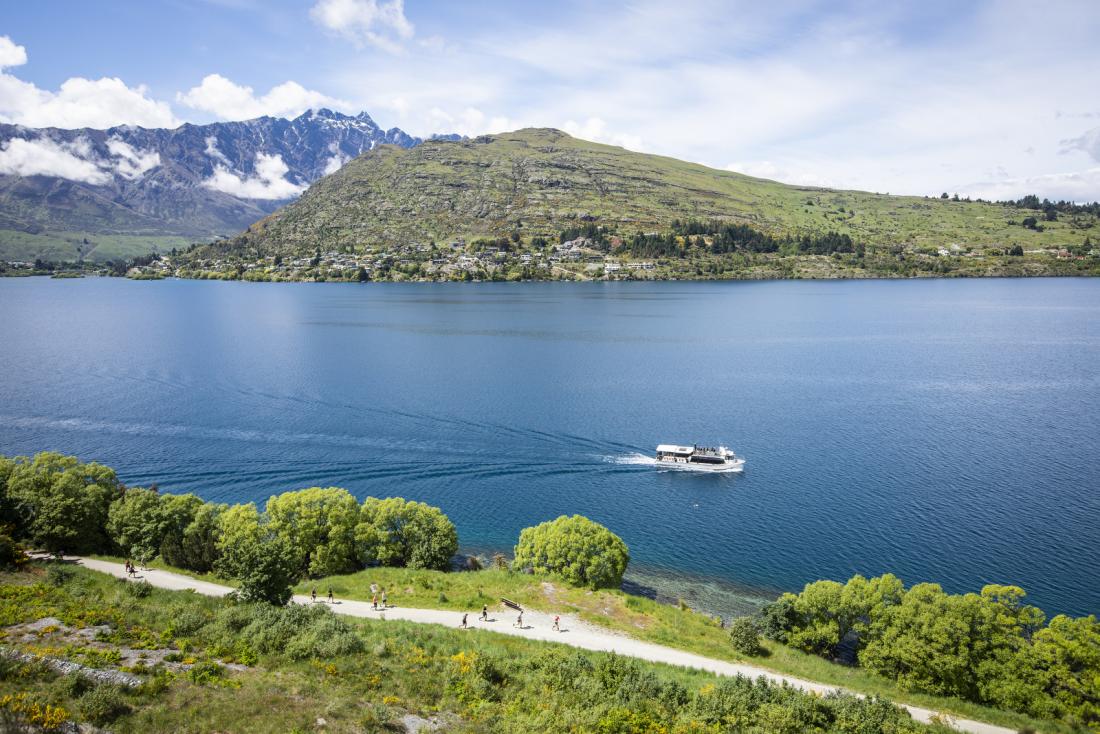 Queenstown again turned on a stunner of a day for the 11,265 participants taking part in the four race distances at the Air New Zealand Queenstown International Marathon, with the 2,385 marathon runners making it the largest in New Zealand, as the event celebrated its fifth birthday in style.
Daniel Jones (Wellington) took out the men's title, in what has been a busy time just weeks after finishing second at the ASB Auckland Marathon a fortnight back.
"I had Auckland a few weeks ago, so I thought I was pretty stupid to do this so soon after and I think a few others thought the same!" said Jones.

"I went out from the start, took it as it came. There were a few more hills than I expected but it is so nice to get off the road for a change, it was really good. I felt pretty cooked, but the crowds along the lake edge and even others racing offered such big support, that is what gets runners through, you just get that adrenalin as you come home into Queenstown, it was amazing.

"At the start of the week it was dubious about it being a nice day to run, but a day like today was just unreal, and the best thing is you have Sunday to relax and have a beer."
Jones had built a ten minute margin over Alex Cowden and Ewan Sinclair by the finish and was able to enjoy the final few kilometres through the crowds of Queenstown.
Hannah Oldroyd took out the women's title, making it two in a row for the ex-pat British runner, who immediately turned to her traditional post-race recovery and thoughts of putting her feet up for a day or two.
"I felt absolutely horrendous at times, I probably went out too hard to be honest, I was about 5th or 6th in the first half but picked off a few with about ten miles to go. The crowd were amazing as always, people along the course and especially coming into town, I don't get emotional, but that was unreal.

"It has turned out to be a beautiful day, watching the forecast was a bit worrying, but it has been amazing. All I need now is my can of Guinness and a packet of squiggles."
Lydia O'Donnell (Auckland) came home in second having only made the decision to race a few days ago, not long after finishing 20th at the New York Marathon.
"I thought halfway through I might not finish but I said just finish and enjoy it and while I walked a couple of times, I made it to the finish, so I am proud of myself. I think a lot of people were surprised I was doing this but why not, I love running and this is such a beautiful place. This may well be one I have to return to though, it was beautiful, absolutely beautiful."
Daniel Balchin (Cromwell) successfully defended his title at the New Zealand Sotheby's International Realty Half Marathon, coming home in the near perfect conditions in a time of 1:08:42, just outside his own race record time.
"Earlier on in the week it looked like the forecast wasn't ideal, but it turned out to be absolutely perfect, nice and cool and not too much of a breeze, it was a great day for it," said Balchin.

"I went out at my own pace and was running with Nicholas and Jack for the first 10k, when I got a bit of a gap I just kept the pressure on and was running scared a little bit because I knew those guys were right on my heels. Coming back into town off the gardens trail it gets nice and flat and you can get into a good rhythm and the spectators in town give you a bit of a boost as well."
Former top-level jockey Lisa Cross (Auckland) took out the women's race despite enduring a painful burst blister over the closing few kilometres. The current New Zealand cross-country champion enjoyed the mild and calm conditions.
"We were really lucky, we thought it might be miserable but conditions on course were near perfect and the scenery was beautiful. I knew I was in front, I don't look back, I just keep going and run to my own schedule. I started with a blister and had it plastered up but felt it burst with a couple of kilometres to go, if it had happened back at the 10k mark I doubt I would have finished."
Evan Elder and Rebekah Greene took out the respective men's and women's Cigna 10k races, both doing so in record time, with Elder posting 32:14 and Greene 36:07 to etch their names into the record books.
Amongst the many highlights was the incredible sight of 87-year-old Clasina Van Der Veeken crossing the line in the New Zealand Sotheby's International Realty half marathon, finishing alongside her two proud grandsons Matt and Kurt, in a time of 3:29:35
"That was beautiful and a lot of fun, and great to be able to run with my grandsons," said the multiple World Masters Games medal winner.
Television personality and comedian Dai Henwood was another to enjoy his day, also completing the New Zealand Sotheby's International Realty half in 2:01:39, before heading off to a gig in Queenstown that night with Australian counterpart Mickey D, who completed the full Air New Zealand Marathon in 3:59:57.
"My day was pretty good, I had a bad training run with a cricket related knee injury, but I ended up loving the course and happy with the run, I probably could have started my run home a little sooner, I had more in the tank than I thought I did.

"When I am down here, I run what is the last part of the course from Frankton, it was just beautiful, I love trail running. But what impressed me was just how awesome all the runners were, it got a little tight on a few of the corners, but everyone was courteous, there was such a good vibe. There were a few doubters about the weather, but I said it would come right and it was great.

"I am really excited about my gig tonight, I usually go through my set list and write a few gags while I am running so I have had plenty of time to do that today, and I imagine there will be a few runners in the crowd in Queenstown tonight and Wanaka tomorrow."
Air New Zealand Head of Regional Affairs Reuben Levermore says it's fantastic to have had record numbers take part in the event from right across New Zealand and around the world as the marathon celebrates its fifth year.
"The event has seen staggering growth since the inaugural marathon in late 2014. We're delighted to have helped bring the marathon to such a stunning part of New Zealand for another year for so many people to experience and enjoy. I'd like to congratulate everyone who has taken part today."
The day was made possible thanks to the support of the nearly 600 strong Skyline Volunteers, all of whom looked after the athletes and supporters superbly, welcoming visitors into the region with a smile and answers to any questions. Organisers will contribute $20,000 to the numerous community groups and charities that many of them represent.
And race charity the Queenstown Trails Trust will again benefit from the event, with the total donated over the course of the five-year history of the event reaching $190,000, ensuring an ongoing legacy for all who use the wonderful trails for walking, running or jogging throughout the year.
In total the event saw more than 11,000 people take on a variety of race distances, including a New Zealand record 2,385 in the full Air New Zealand Marathon. With all events except the kids race selling out weeks ago, demand is expected to be high when 2019 entries go live on Sunday morning, with the first two hundred to sign up in person at the Queenstown Memorial Centre from 9am going in the draw to win free return flights to the 2019 event, courtesy of Air New Zealand.
Air New Zealand Queenstown International Marathon
Results – full results CLICK HERE

Air New Zealand Marathon

Men
1 Daniel Jones, Wellington, 2:32:09
2 Alex Cowden, Christchurch, 2:42:38
3 Ewan Sinclair, 2:42:49
Women 
1 Hannah Oldroyd, Christchurch, 2:52:13
2 Lydia O'Donnell, Auckland, 2:56:01
3 Aimee Durbin, 2:57:00
New Zealand Sotheby's International Realty Half Marathon

Men
1 Daniel Balchin, Cromwell, 1:08:42
2 Nicholas Sunseri, Queenstown, 1:09:18
3 Jack Moody, Auckland, 1:10:21
Women
1 Lisa Cross, Auckland, 1:19:46
2 Fiona Crombie, Christchurch, 1:24:54
3 Bronwyn Hager, Australia, 1:26:12
Cigna 10km

Men
1 Evan Elder, 32:14 (new record)
2 Blake Reardon, 33:36
3 Matt White, 35:09
Women
1 Rebekah Greene, 36:07 (new record)
2 Sarah Douglas, 37:38
3 Debbie Donald, 38:42