How to Play in Queenstown
17 July 2018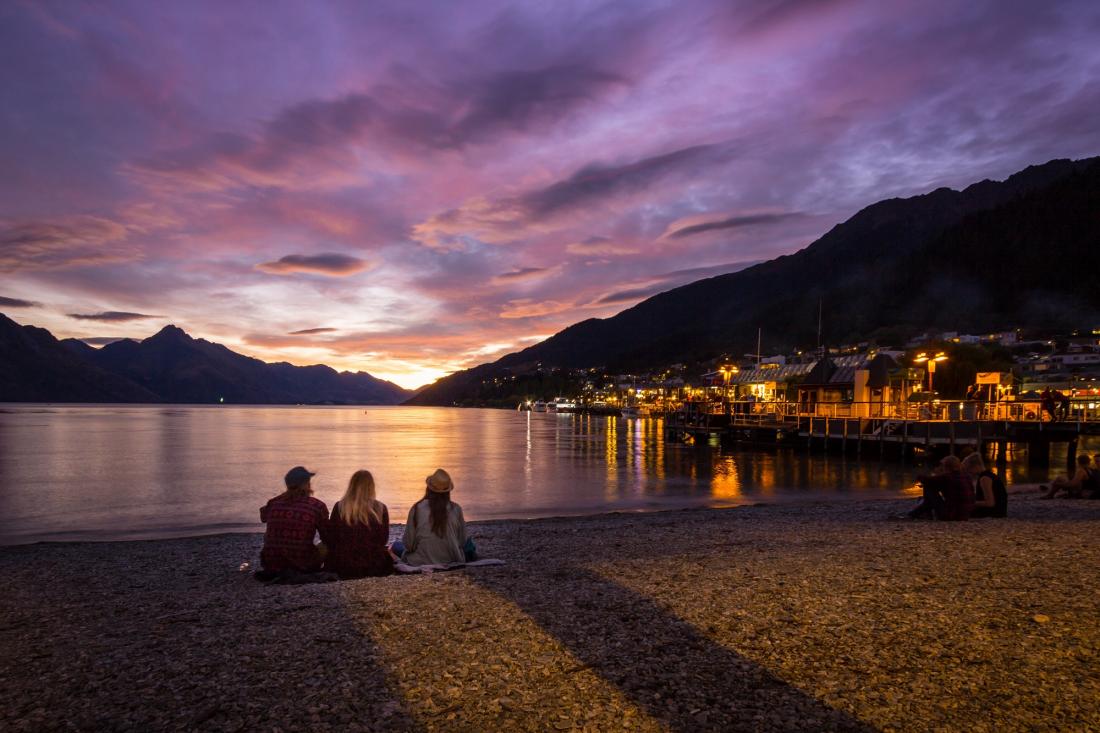 A recently-relocated triathlete and adventurer outlines the best ways to enjoy this South Island gem.
by Luke Yates
You're short of breath, you've given it everything, and the finish line is just meters away. The cheers ring out and that feeling of relief and elation is overwhelming.
Finishing an endurance race is a unique experience, and one of the key reasons we keep coming back to tackle them. But imagine crossing the line surrounded by towering mountains, next to a majestic alpine lake. This is racing in Queenstown, New Zealand, where the finish lines of the Air New Zealand Queenstown International Marathon, the Pioneer mountain bike race, or one of the Macpac Motatapu off-road events await you.
Queenstown is regarded as the adventure capital of New Zealand, if not the world. With its welcoming, cosmopolitan community and stunning scenery, it's one of the best destinations for endurance sports. If you're visiting to race, staying for a long weekend or even a week or two is advised.
The list of activities and attractions in Queenstown feels endless, but even if your time in the town is short, there are many ways to get a quick hit of local flavor. Our first recommendation is, of course, to get the adrenaline pumping.
"It's a great place to tick something off your bucket list, in terms of adventure. We've got lots of world first innovations—we're the home of jet boating and bungee jumping, for example," says Sarah O'Donnell, who works for the city's tourism department.
Jump and splash
The Kawarau Bridge Bungee is where jumping off tall things attached to a bit of elastic all started, and Queenstown now has three jumps as well as several canyon swings and zip-lines. If throwing yourself into oblivion is your kind of thrill, this is the place to be. Going a step closer to the sky, skydiving is another way to get the heart pumping. With extensive views over the Southern Alps mountain range, there aren't many more scenic spots to hurtle yourself out of a plane.
Staying closer to the ground doesn't mean life has to be any less exciting. Jet boating will certainly get you going. These boats can run at alarming speeds even in very shallow water, meaning the highly skilled drivers can get you crazily close to rocks and river banks before spinning away at the last minute. If you prefer your adventures human (and river) powered, try whitewater rafting. The drive alone to the start of this activity is an adventure, as you are bussed down Skipper's Canyon. The rapids on the Shotover River are not for the faint-hearted with some serious drops and hits. Expect to get wet and wild, and don't be surprised if you end up in the water.
Renowned fueling
Whew! Just writing about all that excitement has left me starving and in need of refreshment. If you've just finished an endurance race, food and drink are likely to be high on your agenda. With over 150 bars and restaurants in our downtown area Queenstown has you covered.
From quick bites to fine-dining, you're sure to find something tasty. The multicultural nature of the town is best manifested in the range of international restaurants, and there are local favorites including fish and chips on the beach, famous burger joints, and gourmet pizza. It's also worth hunting down one of Queenstown's garden-to-plate restaurants. Specializing in local produce, these spots offer the chance to get a taste of all the flavors New Zealand has to offer.
Speaking of local flavors, we'd be remiss not to mention the region's numerous vineyards.  
"If wine is your passion, then visiting our local wineries and cellar doors is absolutely a must," says O'Donnell. "You can tie in the [bike] trails with some winery visits as well. And of course we're renowned for our award-winning Pinot Noir."
Finally, if you have room, head to one of Queenstown's dessert cafes and grab something decadent. Rumor has it there is even a chocolate fountain!
Get high
Queenstown is located on the shores of Lake Wakatipu, in the heart of a mountain range that stretches the length of the South Island. O'Donnell feels it's important to try to get a taste of this scenery, saying that one of the best ways to do so is going up the gondola or taking a scenic flight, both of which provide a bird's eye view of the area.
You can access amazing views right from the heart of Queenstown, with the gondola running from downtown to the top of Bob's Peak. The vistas are incredible, as are the range of activities at the top. Highlights include riding the luge track, stargazing, and downhill mountain biking. Numerous hiking trails can be accessed from the gondola, including the route to the top of Ben Lomond, which will offer even more extensive views of the region.
If starting a hike with a gondola ride isn't your style, there are still a huge number of trail options, and nothing can beat a trip to the back-country to get a real feel for the New Zealand wilderness. Numerous day hikes start from the nearby town of Arrowtown, host to an incredibly rich history and some wonderful spots to eat. The views around this former gold-mining settlement are basically what Instagram was made for!
Meander Middle Earth
Arrowtown isn't the only local spot worth visiting. "Make the trip down to Glenorchy," says O'Donnell. "The drive is world-renowned for the stunning scenery, heading down to Lord of the Rings country."
Glenorchy itself is a small collection of houses, cafes and restaurants, just 45 minutes from Queenstown. You won't be able to resist stopping for a few photos along the way. The access it offers to the wild is amazing. If you have a few days, set off and explore the trails and stay in a backcountry hut, a small shelter usually with space for cooking and some bunks to put down a hiking mattress. The ultimate expedition in this area is the Routeburn Track. One of New Zealand's Great Walks, this is a multi-day trail taking in outstanding alpine scenery along the way. The track is usually completed one-way, and shuttles to the start or finish can be arranged in Queenstown.
Lake life
Most of the adventures so far have been land based, so for our final recommendation for a trip to Queenstown, we advise making the most of Lake Wakatipu.
"Get out and about on our water, it gives a different perspective of Queenstown. Whether that's via historic steamship, modern catamaran or a jet boat or the shark (a high-speed submersible boat)," says O'Donnell.
Queenstown is a stunning destination to visit for endurance sports. The Kiwis have a seemingly built-in desire to get out in nature and are incredibly welcoming. Combine this with the incredible facilities on offer in Queenstown, and the superior event organization of IRONMAN, and you have some of the best events in the world for running and riding. Join us!
Luke Yates is a British adventurer, triathlete, and journalist currently living in New Zealand.